Sponsored by:
Please note: The following information is for the US tax system. However, Accounting also provides complete crypto tax services for other countries including the UK, Germany, Australia, Switzerland, and Austria, and is fully compliant with the tax agencies in those countries.
Cryptocurrency tax reporting can seem pretty daunting since tax-related policies are confusing. Cryptocurrency gains and losses are filed the same way as stocks or other forms of property. With cryptocurrencies like
Bitcoin gaining significant popularity in recent years, governments have realized the need for categorizing it as an asset.
The IRS has released a guideline on paying taxes associated with cryptocurrency dealings. Several warning letters have been issued to non-compliant cryptocurrency investors. The major concern arising here is how cryptocurrency transactions and taxes can be managed.
Crypto Tax Platforms offer a better approach to manual calculations and record keeping.
Do I Need A Crypto Tax Platform?
The report generated on crypto assets must be filed to the IRS. One of the best ways of doing so is by relying on cryptocurrency tax software. It is quite convenient for a crypto trader to keep a record of all their trades without worrying of aligning all trades and transactions information per each exchange, identifying what the different values mean and how they were determined. Paying taxes becomes more comfortable with software that records all the vital info to be furnished to the IRS.
The first step to file cryptocurrency taxes is to understand the estimation of taxes. This can be complex depending on the amount and variety of cryptocurrencies and the types and quantity of trades. Tracking this data across multiple exchanges can be a hassle if the taxpayer uses more than 1 exchange.
How Does A Cryptocurrency Tax Software Work?
Cryptocurrency tax software serves as a third-party data aggregator. The users can purchase software subscriptions and link crypto exchanges into the tax platform, wallet addresses, or upload files. The software then reconciles the transactions and also produces a detailed report of gains and losses that adheres to the IRS guidelines. These reports primarily include Form 8949, Schedule D, and Schedule 1 in some instances.
Though there are several cryptocurrency tax software platforms available, not all offer the same service or features. Each platform has its strength and weakness. A few key features to consider, when choosing, are discussed ahead.
Key Features In A Crypto Tax Software
Bandwidth and integrations
The number of integrations possible is the most crucial factor to consider when looking for a crypto tax software. There are primarily two kinds of integrations: Comma Separated Values (CSV) import and Application Programming Interface (API) import. API is the most accurate and seamless way of importing wallet and exchange data into a tax platform. Though this sounds quite technical, it is pretty simple.
The API key or public address from the wallet or exchange being used must be copied and inserted into the tax software. The platform then automatically downloads all the transactions carried out and reconciles them. CSV imports are more time consuming and inconvenient. It requires downloading the transaction history report in CSV format and then integrates it by uploading it on the software platform. Editing the report manually may be required in some instances, creating a gateway for errors.
Bandwidth is also another crucial parameter to consider. This is essential for an active cryptocurrency trader who makes thousands of transactions in different wallets and exchanges.
Legitimacy & credibility
As cryptocurrency tax software is still in its evolving phase, it is paramount to question the credibility of the software. This is because, ultimately, the taxpayer would be liable for the amounts reported on the tax return. Hence, knowing who is behind the platform and if the team complies with the corresponding regulations is fundamental. For instance, a team with just technologists and no tax experience may not be able to adhere to IRS regulations.
Does the software help taxpayers in defending amounts reported by their platform? The security of user data on the platform is another important concern here. Do they have any media presence? What kind of organizations is the developer affiliated with? Doing this will help understand if the software can be trusted or not!
Other perks
Any other perks being supplemented with the subscription are a bonus. Apart from loss/gain reconciliations, some crypto tax software platforms offer features such as tax planning tools, portfolio tracking, educational webinars, and a lot more. Another option offered is to invite an accountant to access the account, without sharing credentials username or password. This is a convenient way to have extra supervision while retaining privacy.
Crypto is certainly becoming mainstream. It is essential to calculate crypto gains and losses accurately. To comply with filing requirements, the best thing to do is to leverage on a good crypto tax software that can complement your existing crypto tax software like for example, TurboTax.
Summary
Depending on how one handles cryptocurrency, the tax implications can vary. In all cases, it is essential to know the nature of gain or loss incurred as defined by the IRS as this is the first step to resolve any advanced crypto ta situations . It is also important to know the fair market value of the crypto being taken into consideration for taxation as this will form the underlying premise for calculation of the relevant taxes.
How else can I file cryptocurrency taxes?
Though there are numerous crypto tax software platforms available, not all of them provide good tax reports. Ultimately, the taxpayer is responsible for maintaining the necessary tax records related to cryptocurrency transactions.
Keeping records is essential to understanding how trades are taxed. This is not something easy for a person who doesn't have basic accounting knowledge. A cryptocurrency accountant who specializes in the field can provide guidance on this. Hiring an accountant is the best way to prepare for the tax season for those who do not have the time or knowledge to do it on their own.
How To Review A Crypto Tax Report With An Accountant?
It is essential to review the crypto tax report with one's accountant to file crypto taxes. An accountant can also help you reviewing the report by using crypto tax software. This allows the accountant to view and download the completed tax forms directly from the dashboard. Many accountants manage this entire process for the client. Accountants use these forms to estimate the total gains and losses as the crypto tax software does.
Reviewing Transactions Classifications
Once all the data has been imported on the tax software platform, there is an option to run reports on it. The application does the number-crunching for you by reconciling every trade executed. Once the process is completed, it generates the report. This makes it easier for the taxpayer to discuss the details with an accountant and file taxes accordingly.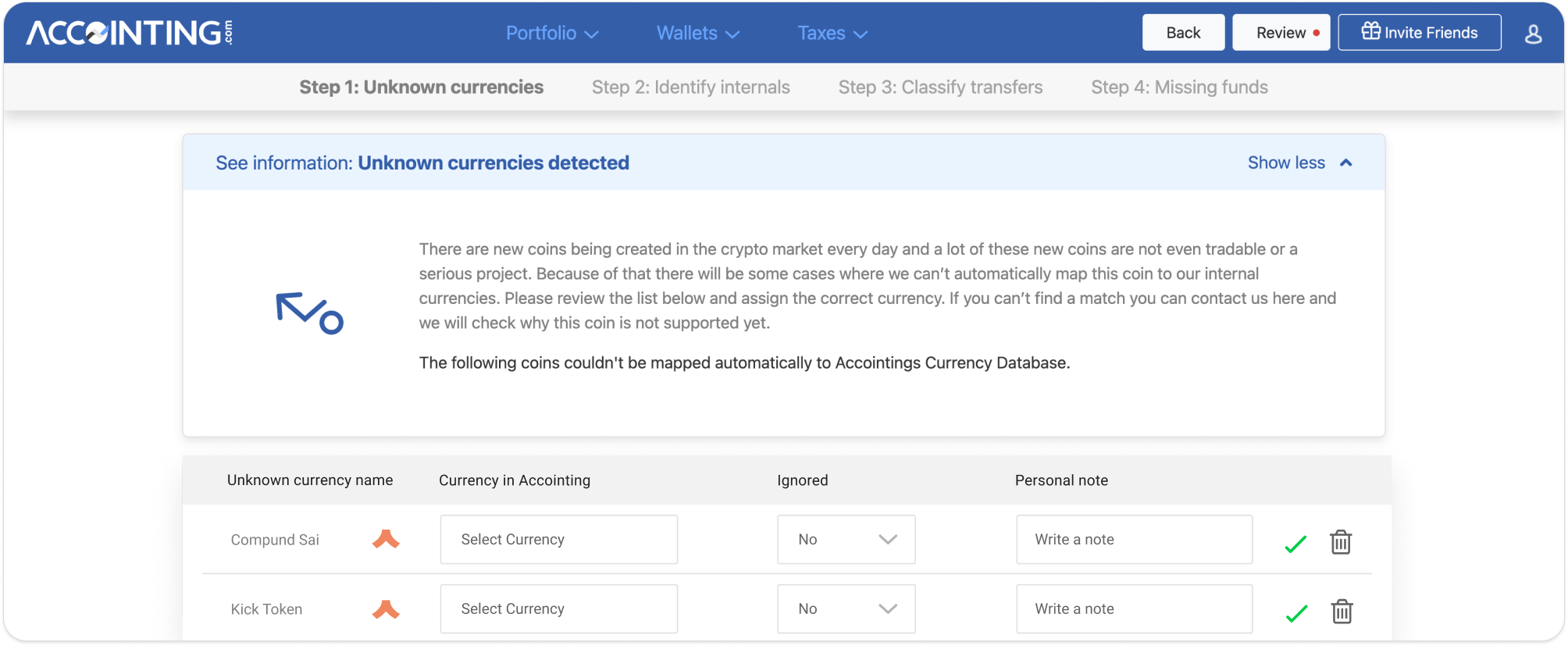 Generate A Crypto Tax Report
Generating a crypto tax report can be done conveniently through the crypto tax software. Even accountants have to rely on some platforms for this purpose. Once this step is completed, information can be processed and reviewed. This is the final step before filing the tax forms.
Trends In The Upcoming Regulation
Cryptocurrency is here to stay and it has been sensed by regulatory bodies. It seems reasonable to understand the basic framework established by the IRS to become a profitable crypto trader and avoid further liabilities. Crypto tax software is available in the market, assisting the taxpayer in the generation and filing of tax reports diligently. However, there are still some pending guidelines from the government on how to approach specific cases like NFTs, Yield Farming, etc. Hopefully, the IRS will provide clarity on the matter soon.
Easily file your crypto taxes: